People are always excited to let us know what ties they have with the Crow Wing Trail. These are amazing, and they provide a real link between the past and the present! We encourage you to provide us with your story…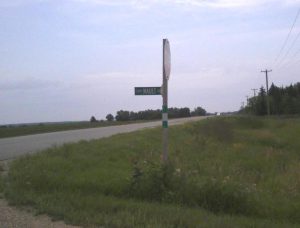 Derrick Nault, is a faculty member of the University of Calgary. He is taking interest in the Crow Wing Trail as his family has strong ties to the area. Members of the Nault family still live close to Nault Road today, and our Association partnered with the RM of De Salaberry to install a bridge over the Coulée des Nault as part of the Crow Wing Trail between St-Pierre-Jolys and St. Malo. The Coulée des Nault also benefited from a recent project of the Seine-Rat River Conservation District.  Derrick has done a lot of research about his family: "Found out recently that my great-great-grandfather, Andre Nault (1830-1924), was a pallbearer at Metis leader Louis Riel's funeral in 1885." Click here to read Derrick's interesting blog.
Ron Lemieux, MLA for LaVérendrye at the time, officially opened the Crow Wing Trail in September 2006. He was proud to talk about his family ties with this historical trail. He goes on to describe how proud he is that volunteers are able to stick to a such a big national project, on behalf of Manitoba, and tell Manitoba's story at the same time.
https://vimeo.com/102254272w=500&h=280
 * * * * * * * * *
Ian Hughes, President of Trails Manitoba, surprised everyone at the Crow Wing Trail Annual Meeting in May 2014, when he spoke about his family ties with the Crow Wing Trail:
"In 1866, my great-grandparents, Thomas and Annie Lusted, moved from southern Ontario to the Red River settlement. Their journey took them to St. Paul by train and them up the Crow Wing to Red River by ox cart. This is a big part of my family history. In the 1950's my grandmother wrote a story about it that ended up in the Winnipeg Tribune. Last year my daughter wrote an article about the journey that was published in Canada's History magazine. That connection makes it very exciting for me to be involved with CWTA."
Click on article on left to enlarge and enjoy!